***PLEASE NOTE: POLICE RECORD CHECKS ARE AVAILABLE ONLY TO RESIDENTS WHO LIVE WITHIN OUR POLICING JURISDICTION (CITY OF PETERBOROUGH, VILLAGE OF LAKEFIELD AND TOWNSHIP OF CAVAN-MONAGHAN). IF YOU LIVE OUTSIDE THESE LIMITS, PLEASE CONTACT THE POLICE SERVICE RESPONSIBLE FOR THAT AREA***
CLICK HERE FOR A MAP OF OUR POLICING JURISDICTION: PPS Service Area Map.
** As of November 1st 2018, due to changes imposed by the new Police Criminal Record Check Reform Act; we are no longer able to accept police record checks for persons under 18 years of age UNLESS applying for a position with a government employer (federal, provincial or municipal). A letter from the employer is required **
The Peterborough Police Service is in the process of introducing a "digital download" delivery method for completed online record checks. This process will allow applicants to download their completed record check from the system. The document will be password protected for security purposes. Be advised, not all applicants will qualify for this option. Applicants will be notified upon completion of their record check what the delivery method will be. All online record checks applied for after September 14th will be sealed with a watermark, instead of an embossment. In-person record checks will continue to be embossed.
In keeping with recommendations established Federally, Provincially and within the County of Peterborough to reduce the spread of COVID-19, the Peterborough Police Service continues to take pro-active steps to attempt to limit the amount of foot traffic into the police station.
Request a Police Record Check
Criminal Record Check applications are available online; please click on the link below to be taken to the application site;
SUBMIT YOUR POLICE BACKGROUND CHECK APPLICATION ONLINE
Effective Monday, September 14, 2020 the Peterborough Police Service records counter has re-opened to the public by appointment only.
If you are unable to apply online and would like to request an appointment to apply in-person at our public counter, please send a request to recordcheck@peterborough.ca. We will not accept walk-ins who have not made an appointment, or those attending outside of their scheduled appointment times. If you miss your appointment, or are missing any required documentation, you will need to schedule another appointment.
Applying for a Police Record Check in Person
The applicant must attend in person and be a current resident of the City of Peterborough, the Village of Lakefield or the Township of Cavan-Monaghan. Applications are only available on an appointment basis. Please email recordcheck@peterborough.ca to make an appointment.
Payment is due at the time of application. We accept cash, debit, Visa and MasterCard. There are no refunds for fees paid for in-person or online record checks.
We will strive to process your record check while you wait; however,
Please Note: Applicants who have criminal records, require fingerprinting, or have lived in certain jurisdictions in the past five years, do not qualify for on-the-spot service, as their record checks require additional time to process. Record Suspension and Taxi/Tow/Limo licence applicants also do not qualify for this service. Applicants will be advised at the time of intake what the processing time will be on their record check, as it varies based on individual circumstances. Further, system outages can affect availability.
Applicants who do not qualify for on-the-spot service will be contacted when their checks are complete. These completed record checks are to be picked up in the main lobby of the police station 24 hours a day, 7 days a week. Do not attend until you have been advised that your record check is available to be picked up. Completed checks will be held for 6 months; after which time, they will be purged.
Photo identification is required to pick up a completed record check.
The public is reminded that within peak periods there may be a delay in processing.
Fees
Employment or Personal Use $37
Volunteer or School Placement $10
A volunteer letter from the organization you are volunteering with is required to obtain the reduced fee and must be presented at the time of application. Students requiring a Police Record Check for Co-op placement, volunteer hours, etc. are required to provide a letter either from their school or from their placement location.
Volunteer/Placement letters must be on organization letterhead indicating that the purpose of the check is for volunteering and specify if the Vulnerable Screening is, or is not, required.
Students who are currently living within the city limits of Peterborough, within the Village of Lakefield or The Township of Cavan-Monaghan to attend school may apply. A letter from the school program, along with proof of a City of Peterborough, Village of Lakefield or Township of Cavan-Monaghan address is required at the time of filing.
Identification Requirements
Two pieces of Government issued ID are required.
Photo identification that includes your name, date of birth and address is required. Acceptable forms of identification include drivers licence, photo health card, passport, birth certificate, Ontario photo card, permanent residence card, etc.
International students who do not have Canadian identification are required to provide a valid passport, study/work permit and student card.
If identification does not show an address; proof of current address within our jurisdiction must be presented (piece of mail addressed to applicant, rent/lease receipt/agreement, etc.).
Non-photo health cards and social insurance cards are not acceptable for identification purposes.
What type of Police Record Check do you need?
Be advised, these are just examples; if you are unsure, please contact us for clarification.
Please ensure your level of check is accurate, as it will be processed as indicated on the form. (Any errors on the application may result in additional costs to the applicant.)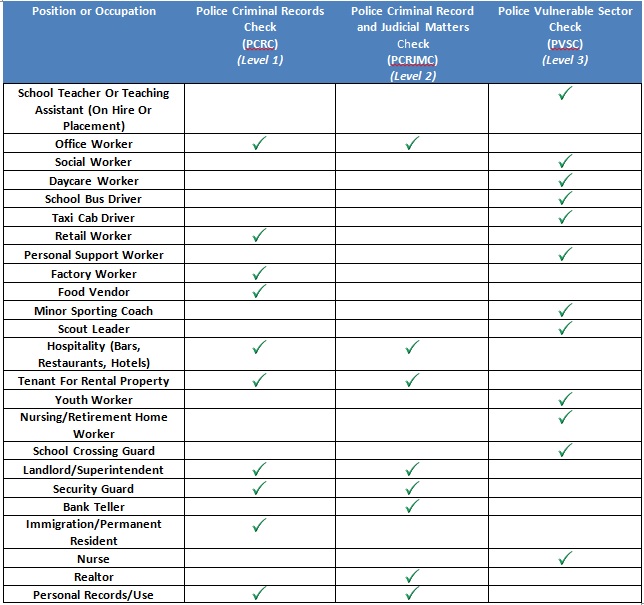 *For student placements, the level of check is based on where your placement is, not the program itself. If you are unsure what level you need, please contact us.
Organizations and groups requiring their volunteers and/or employees to have police record checks are encouraged to contact the Police Service to arrange record check workshops at their location. Minimum numbers apply.
Please Note: Individuals residing outside of Canada are required to contact the Canadian Consulate or Embassy office in their locale for assistance in obtaining a record check directly through the RCMP. We are not able to process applications for applicants residing outside of Canada.
Understanding the Vulnerable Sector (VS) Screening Procedures
Vulnerable persons are described in the Criminal Records Act as: "Persons who, because of their age, a disability or other circumstance, whether temporary or permanent, are in a position of dependence on others; or are otherwise at a greater risk than the general population of being harmed by persons in a position of authority of trust relative to them"
Please Note: An offer of employment or volunteer position must have been received by the applicant prior to the VS screening process being initiated. Copies of vulnerable sector record checks are not available. Each request/organization requires its own application.
When performing a VS query, the Canadian Police Information Centre (CPIC) system initially attempts to identify a possible match to a sexual offence for which a Pardon has been granted, based on the surname and given name of the individual.
If this query does not identify the possible existence of a record, the system performs a subsequent query based on the sex and birth date of the individual.
If this query locates similar biographical data in criminal files it may trigger the CPIC system to prompt for the submission of fingerprints to verify or refute the existence of pardoned sex offender records.
If the results of the VS screening are returned as being inconclusive, the applicant will be asked to attend the station in order to be fingerprinted.
The fingerprints are forwarded to the RCMP, who completes the screening process. Turnaround time can be upwards of 10-12 weeks for this process to be completed (though this length of wait is rare).
Fingerprinting Services are also appointment based. Please call (705) 876-1122 ext. 288 to make an appointment. Fingerprint fees vary from $25-$55 depending on the reason for request.
Please see the links below for further information:
Police Check – Agency Fact Sheet
Police Check – Applicant checklist
Self Declaration – Self Declaration Guidelines – A process whereby the Applicant declares their adult criminal convictions to the Police Service. In order to release criminal convictions identified through a name based query, the Police Service must be satisfied that the Applicant's declared criminal record information is a match to their registered criminal record held at the RCMP.
Reconsideration Process – Reconsideration Document – an Applicant may wish to have information excluded from the results. A reconsideration request may be submitted in writing to the Police Service for review.
For further information, please visit the RCMP's website.
Record Suspensions (Pardon)
Please visit the Government of Canada website to obtain full information on the Record Suspension Process:
https://www.canada.ca/en/parole-board/services/record-suspensions.html
Downloadable Record Suspension Guide – PBC Record Suspension Application Guide_April_2020
If you have begun the process and require fingerprints (step #1), please call (705) 876-1122 ext. 288 to make an appointment.
If you are at the Local Police Check stage (step #4), please email recordcheck@peterborough.ca to make an appointment. Please advise in the email that it is for a Record Suspension.
Record Suspension applications do not qualify for on-the-spot processing.
If you have any questions about the Record Suspension process or for further information, please email the Peterborough Police Service General Inquiry Clerk at recordcheck@peterborough.ca or call 705-876-1122 ext. 215.