Auxiliary Unit Recruitment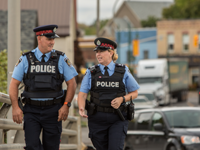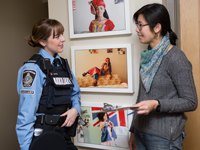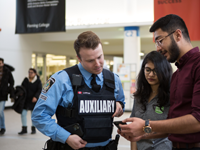 The Auxiliary Unit is an integral part of the Peterborough Police Service. Auxiliary officers serve the community in a volunteer capacity. Most hold full-time jobs in completely unrelated fields, choosing to give back to the community by joining our Service. In recent years the Auxiliary Unit's combined volunteer time has surpassed 6,000 hours. Their efforts contribute to the good quality of life in the municipalities that we serve.
Auxiliary police officers provide services at parades, special events, R.I.D.E. program, provide information on crime prevention, or work along side with police officers during regular police patrols.
The Peterborough Police Service has an authorized complement of 35 Auxiliary members, under the direct supervision of the Inspector of Operations. The Auxiliary Unit is currently comprised of an Inspector, Staff Sergeants, Sergeants and Constables.
Auxiliary Volunteer Information
Must be able to commit a minimum of 12 hours per month plus attend in-service training scheduled
Duties include:
Volunteer in all weather conditions
Volunteer under the direction of a police officer
Assist with duties given by that officer which may include:

Traffic direction
Assist at RIDE programs
Search for missing persons
Engage with community groups
Deliver crime prevention initiatives
Hand out educational material
Accompany and assist a police officer during duty shifts
Other duties assigned by the Chief of Police
Training
Must attend regular in-service training sessions and commit to a two year volunteer term.
Initial training consists of classroom instruction on:

powers of arrest and criminal code
physical restraining methods
firearm qualification. (Although Auxiliary members are not issued firearms, they must be capable of handling a firearm in extraordinary or critical circumstances.)
Qualifications
To be eligible, candidates must meet the following qualifications:
Be at least 18 years of age
Be a Canadian Citizen or Permanent resident of Canada
Completed CPR level "C" and First Aid Certification
Have not been convicted of a Criminal Offence for which a pardon has not been granted
Be a good moral character
Ontario Secondary School Graduation Diploma or equivalent
Valid Ontario "G" Driver's License and excellent driving record
Able to attend training and pass tests set by the Service for Auxiliary Officers