Do you want to make a difference in your community?
The focus of the Peterborough Police Service is community policing. Collaborating and engaging with our communities is the core of what we do each and every day
Proudly serving the City of Peterborough, Lakefield and the Township of Cavan-Monaghan, our area is commonly referred to as the gateway to the Kawarthas. Surrounded by beautiful nature, Peterborough is host to a vibrant arts & culture scene, as well as, a thriving sports community with facilities for people of all ages. We have a diverse economic-base featuring a dynamic business sector, an engaged not-for-profit sector, two post-secondary institutions --Trent University and Sir Sanford Fleming College -- along with the Peterborough Regional Health Centre and the provincial Ministry of Natural Resources.
A career with a Police Service can be one of the most rewarding and challenging career choices. The Peterborough Police Service offers successful candidates the opportunity of a long and rewarding career in both Civilian and Sworn positions. Our service is always looking for highly qualified and motivated people from different backgrounds to join our team as policing professionals.
Our Vision: To be the best Police Service, providing the highest standard of professionalism in partnership with our community.
Our Motto: Professional, Friendly, and Helpful
Police Officer Postings Civilian Postings Auxiliary Unit Recruitment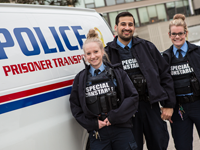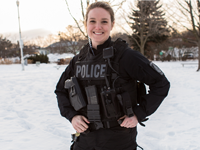 The Peterborough Police Service only accepts resumes for positions that are currently posted. To see the latest postings subscribe to this page.
If you have any recruitment questions please contact: recruitment_pps@peterborough.ca