New Police Constables
Have you been thinking about a career in policing?
The Peterborough Police Service is currently recruiting for new constables for 2023-2024 intake.
Preference will be given to candidates who have demonstrated continuous learning, a commitment to volunteer work and the Peterborough community.
Past applicants are asked to reapply in order to remain active in the process and all completed applications will be held on file for a period of 12 months.
We encourage you have a look through the various steps towards a career in policing. Only fully completed applications will be accepted.
For more information about a career in policing please visit the OACP Website – www.oacpcertificate.ca
Do you have what it takes?
To be considered for a career in policing, you must meet certain minimum requirements as outlined in the Police Services Act. Specifically, you MUST:
Be a Canadian citizen or permanent resident of Canada.

Be at least 18 years of age.
Be physically and mentally able to perform the duties of the position, having regard to your own safety and the safety of members of the public.
Have successfully completed at least four years of secondary school education or its equivalent. (Note: official transcripts and diplomas will be required.) Where education has been completed outside Ontario, official proof of equivalency must be obtained by contacting the Ontario Ministry of Education and Training.
Be of good moral character and habits, meaning that you are an individual other people would look upon as being trustworthy and having integrity.
In addition, you MUST:
Possess a valid driver's licence with no more than six accumulated demerit-points, permitting you to drive an automobile in Ontario with full driving privileges.
Have a current certification in CPR and First Aid - Level C.
Be able to pass a security clearance as well as background investigation, credit and reference checks. If you have any criminal convictions under a federal statute, you must obtain a pardon. If you have 'Findings of Guilt' which have resulted in absolute or conditional discharges, the records must be 'sealed' by the RCMP
Application Process
Candidates must successfully pass each step to continue to be considered in the process.
(1) APPLICATION
Applicants must submit a complete application package including:
How to Submit Your Application
(2) ESSENTIAL COMPETENCY INTERVIEW
In accordance with the Constable Selection System, candidates will participate in a full Essential Competency Interview. This interview could take up to 3 hours to complete. Candidates will be advised of their results at the conclusion of the interview.
(3) APPLICATION REVIEW AND PRE-BACKGROUND QUESTIONNAIRE
The Peterborough Police Service will review all applications, the selected candidates will be contacted to complete the OACP Pre-Background Questionnaire.
(4) PSYCHOLOGICAL TEST/PSYCHOLOGICAL INTERVIEW
Applicants will be required to complete a written MMPI-3 and 16PF test, and subsequently be required to participate in an interview with a designated psychologist to determine if they are acceptable for a position as a police constable.
(5) PHYSICAL TESTING – POLICE FITNESS PIN TESTING
Recruits must demonstrate the ability to successful pass the Fitness PIN.
(6) BACKGROUND INVESTIGATION
This stage involves an in-depth investigation into the applicant and all information that has been provided throughout the entire application process.
CONDITIONAL OFFER OF EMPLOYMENT
Subject to satisfactory results, candidates may be offered employment conditional to receiving medical clearance.
Opportunities in specialty areas
K9 Unit
Special Victims Unit
High Risk Unit
Forensic Identification
Drugs & Intelligence Unit
Community Services Unit
Traffic Services
Major Crime Unit
Promotional Opportunities
Sergeant
Staff Sergeant
Inspector
Our recruits have come to us from a variety careers
Pharmaceutical Sales
Teaching
Retail - Ownership
Retail - Employee
Chef
Security
Special Constable
Information Technology
Social Work
Peterborough Police Service thanks all applicants; however, only those selected to move forward in the process will be contacted.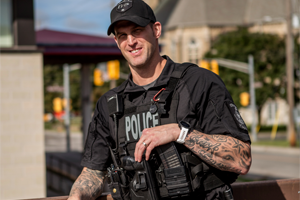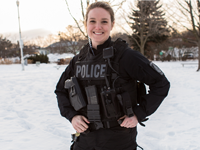 Experienced Police Constables
The Peterborough Police Service is always interested to hear from experienced constables.
Learn more about what we're looking for: Experienced Police Constables
Frequently Asked Questions
Who is considered an Experienced Officer?
Under the Peterborough Police Service Sworn Collective Agreement, the definition of Experienced Officer shall mean; a member of an accredited police service who has had no longer than 24 months break in policing service.

Experienced Officers pay will be review and consider with all previous police experience shall be evaluated.
Will I be entitled to annual leave upon being hired by the Peterborough Police Service?
When a member joins the Service, annual leave entitlement according to the total number of years of Service as a full-time Police Constable. Annual leave entitlement, will be according to the Collective Agreement. Additionally, holiday selection and signing are in sequence of seniority.
Is my current pension transferrable?
For all questions pertaining to your pension, please refer to www.omers.com. As an OMERS member, you may be able to transfer pension credits in to the OMERS plan from another Canadian registered pension plan. If you have been a member of another registered pension plan in the past, contact OMERS Client Services directly at 1-800-387-0813.
Will I have a Probationary period?
No, you will not have another probationary period if you have successfully completed a probationary period in accordance with the Police Services Act of Ontario Section (44): Officers who have served probation with OPP, RCMP, or other municipal services outside of Ontario are not required to reserve their probation.
When will I start to receive benefits?
Benefit coverage starts the first of the following month of a full time date of hire
Can I transfer directly into a specialty unit?
No. You will be required to complete a training/ orientation in uniform patrol. Transfers to other units are based on expressions of need and are posted for officers to apply to.
Will I maintain my retention pay (3-6-9%)?
For any experienced Officers joining the Peterborough Police Service, you are entitled to "Service" pay for number of years as a full-time Police Constable.
If I'm qualified (Breath Technician, Radar, DRE, SFST, etc.) will I still be qualified and able to perform these duties in Peterborough?
Yes, once your Training Sergeant and Staff Sergeant confirms and verifies your training from your current Service, you may be used in their capacities.
The Peterborough Police Service only accepts resumes for positions that are currently posted.