Posted on Friday, July 30, 2021 08:54 AM
Media Release for Friday 30Jul21
Calls for Service: (29Jul21 0500 hrs. – 30Jul21 0500 hrs.) 117 Calls for service
Flight from Police
On 13Dec20, Peterborough Police officers were involved in an incident where a vehicle failed to stop for police. The vehicle was located on Fairbairn St., abandoned, and further investigation commenced to determine the driver. Through investigation, Joseph Bell, 29 years, of Coboconk was identified as the driver.
Bell has been arrested and released...
Posted on Thursday, July 29, 2021 12:00 PM
PB21018722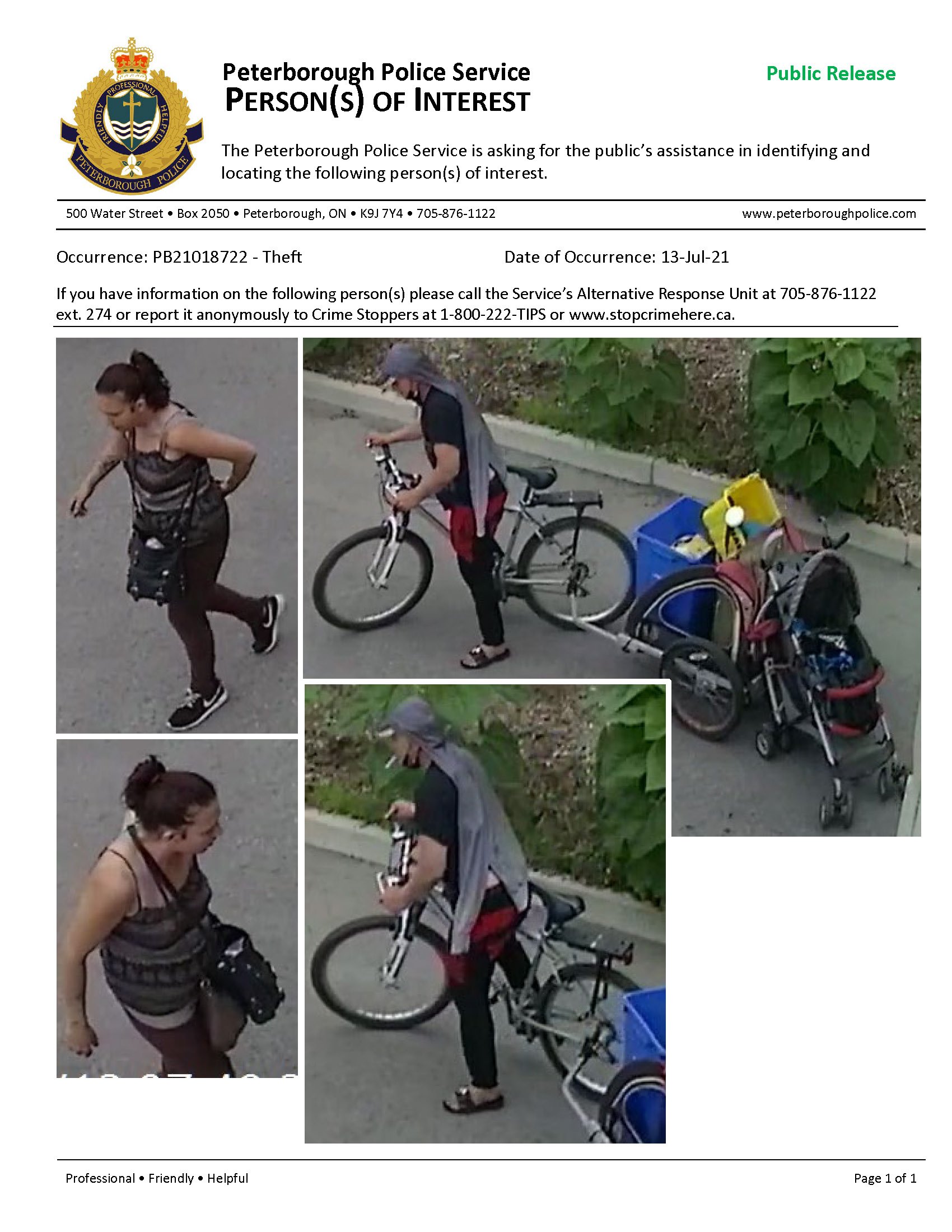 RM21002020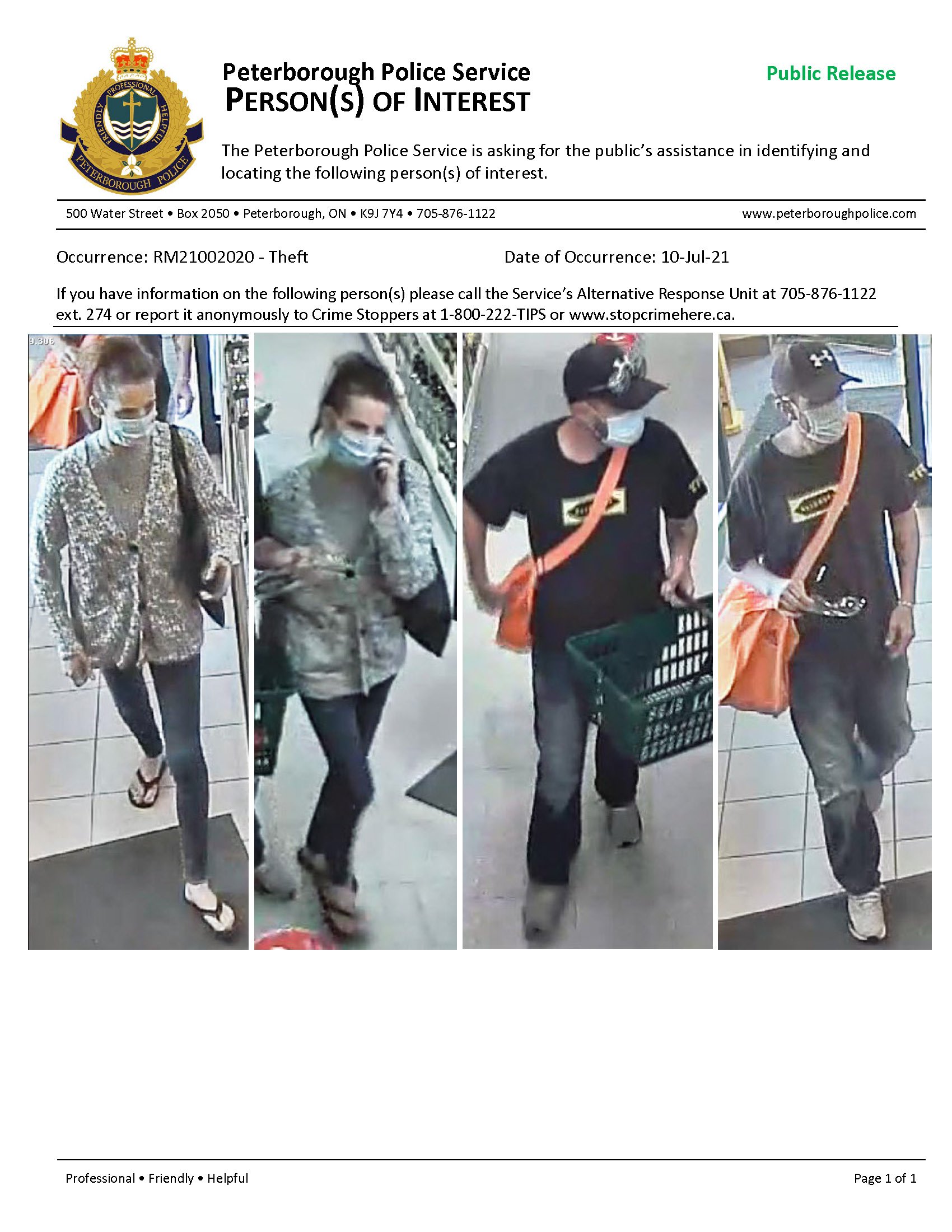 RM21001850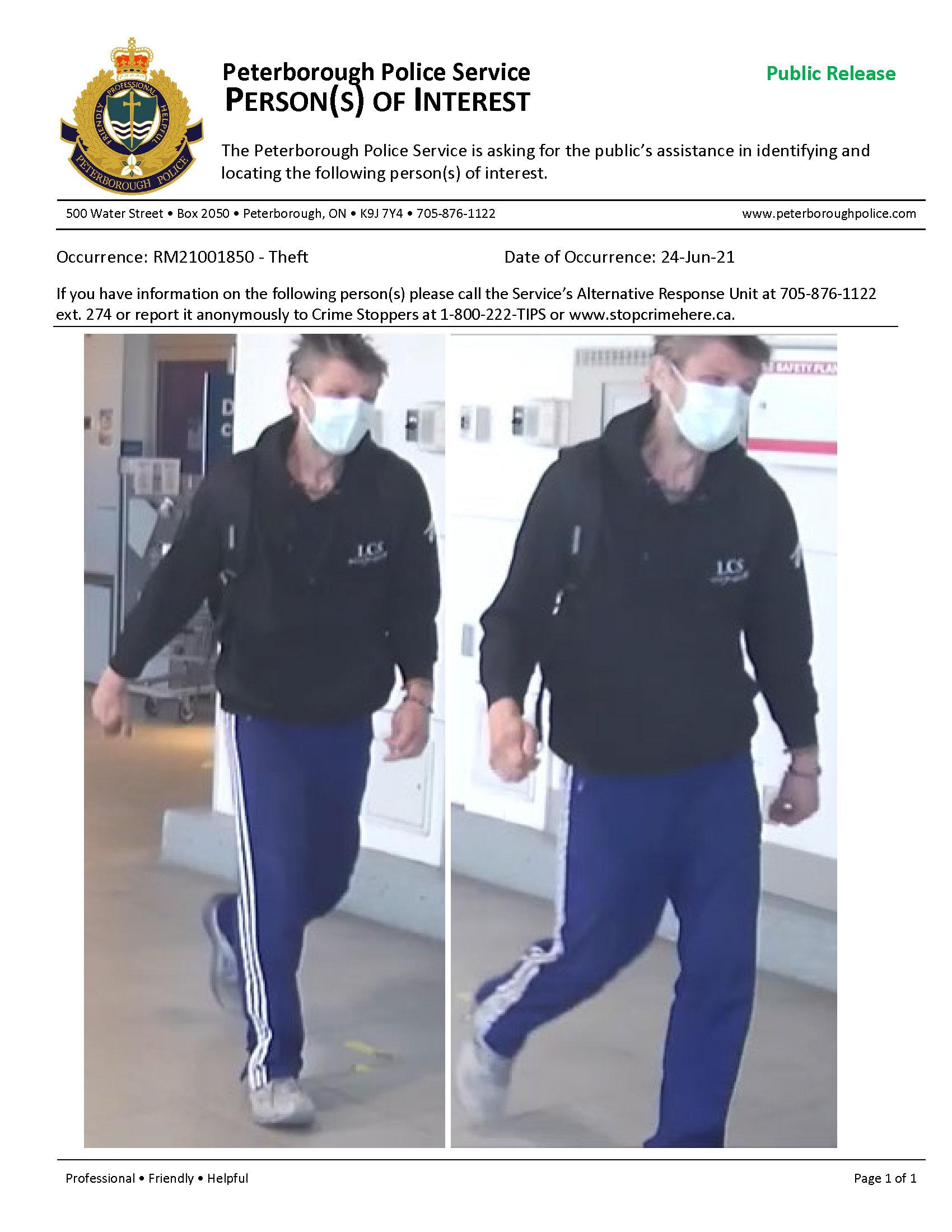 PB21015463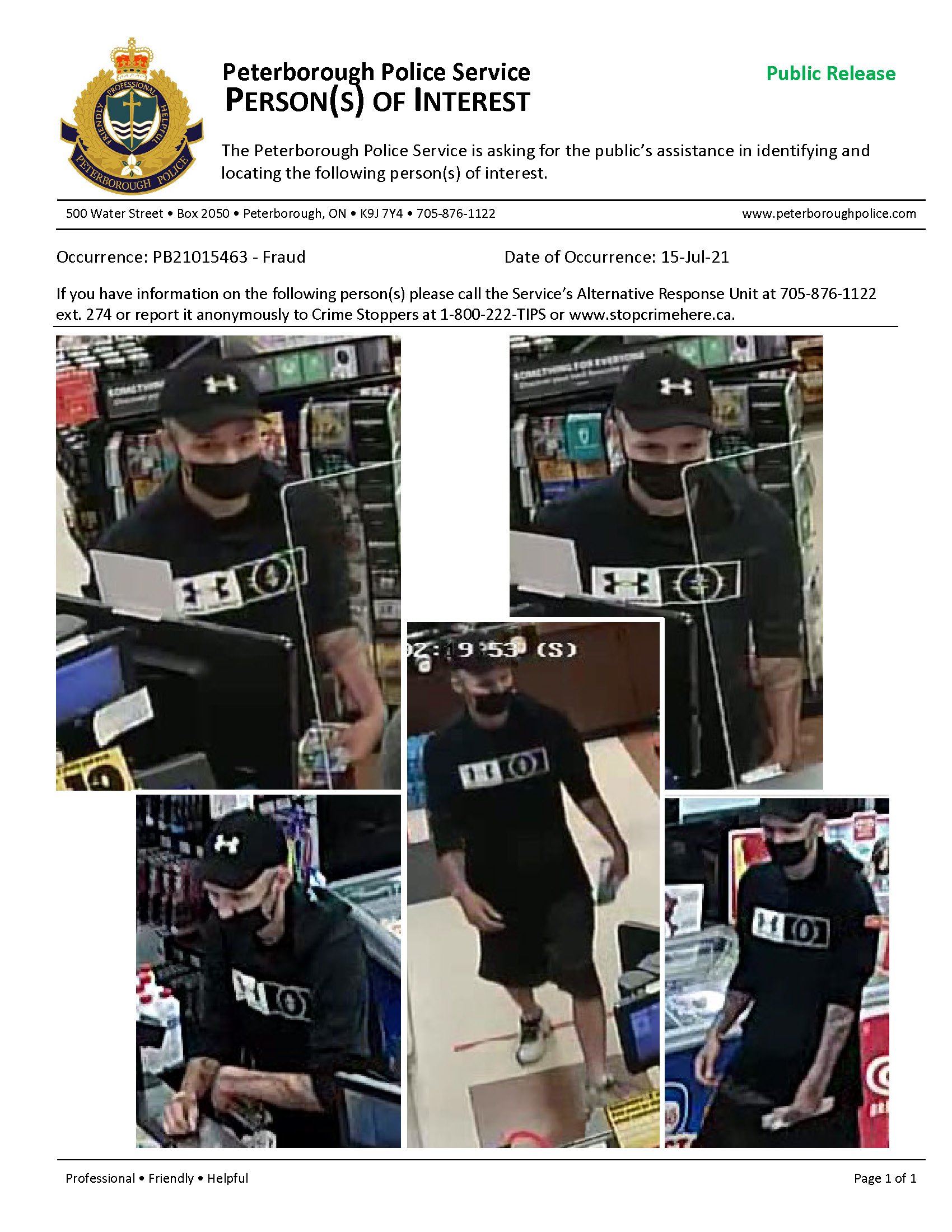 RM21001543
RM21001987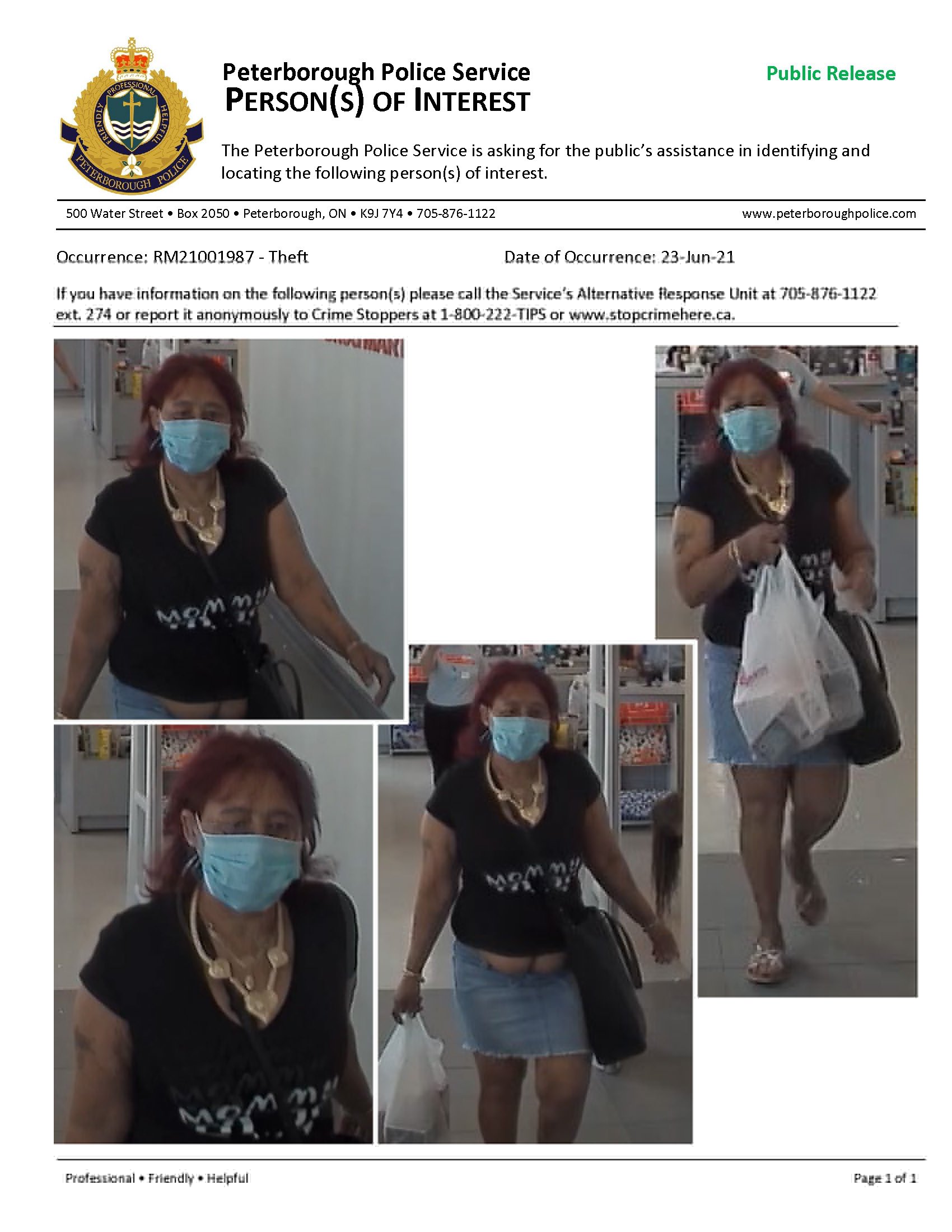 RM21001839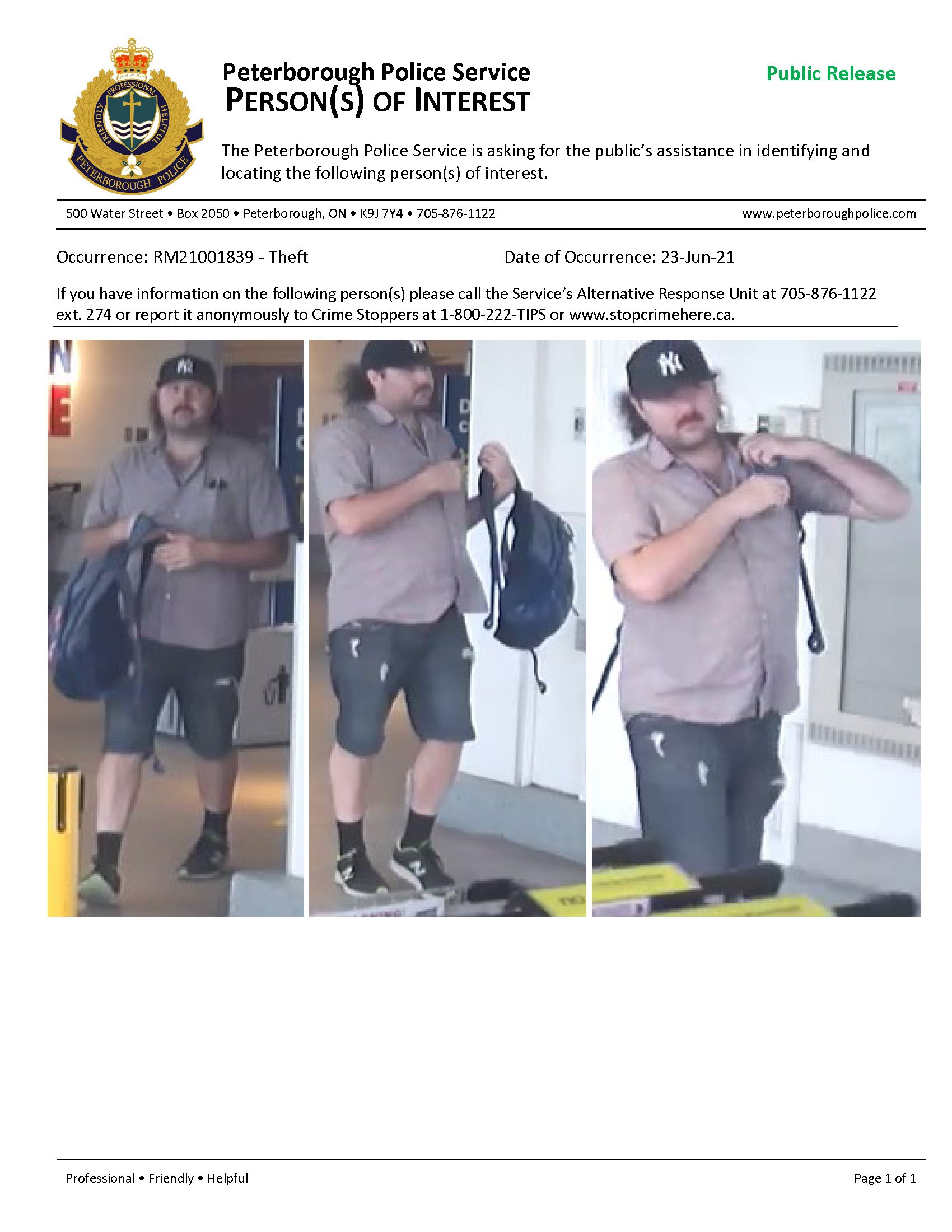 RM21001773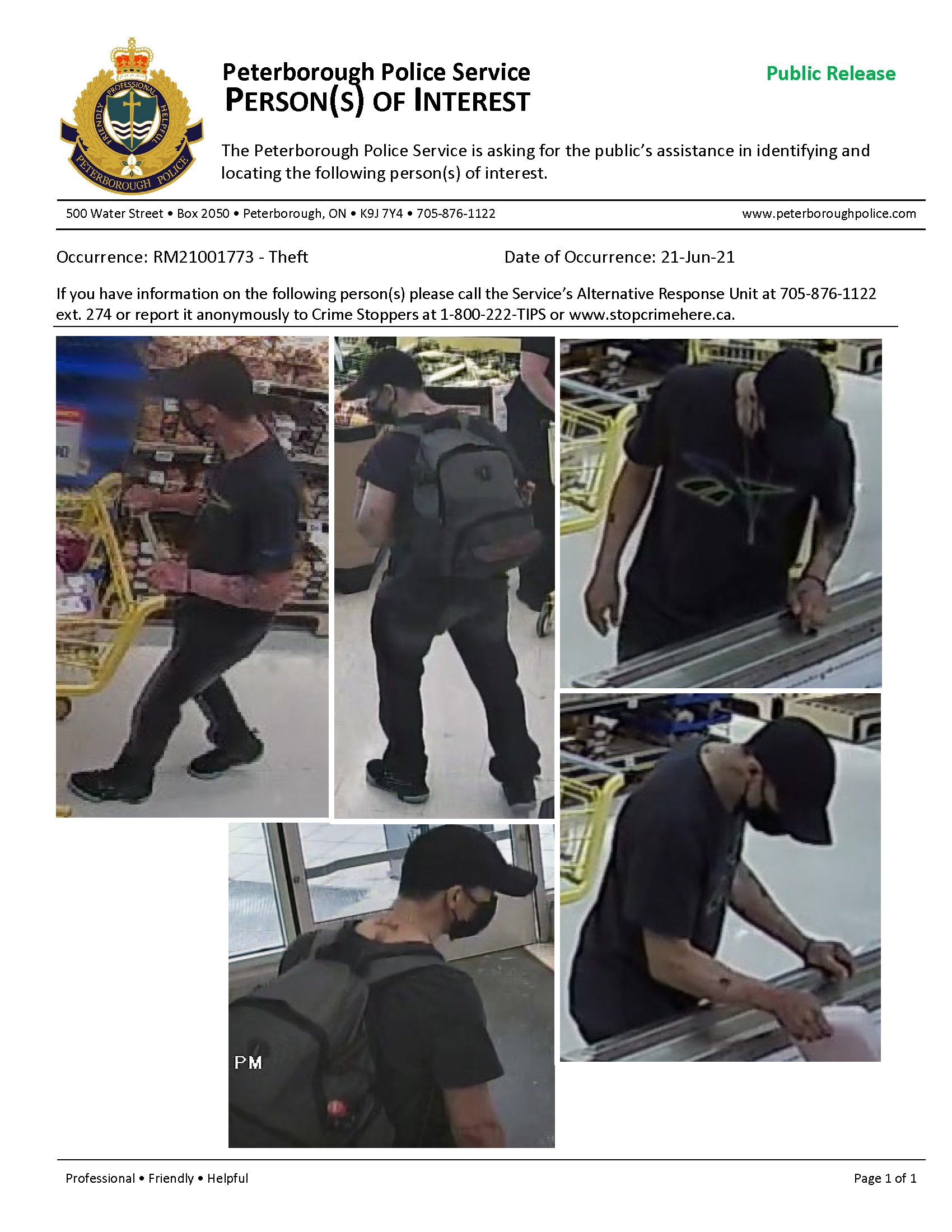 PB21017436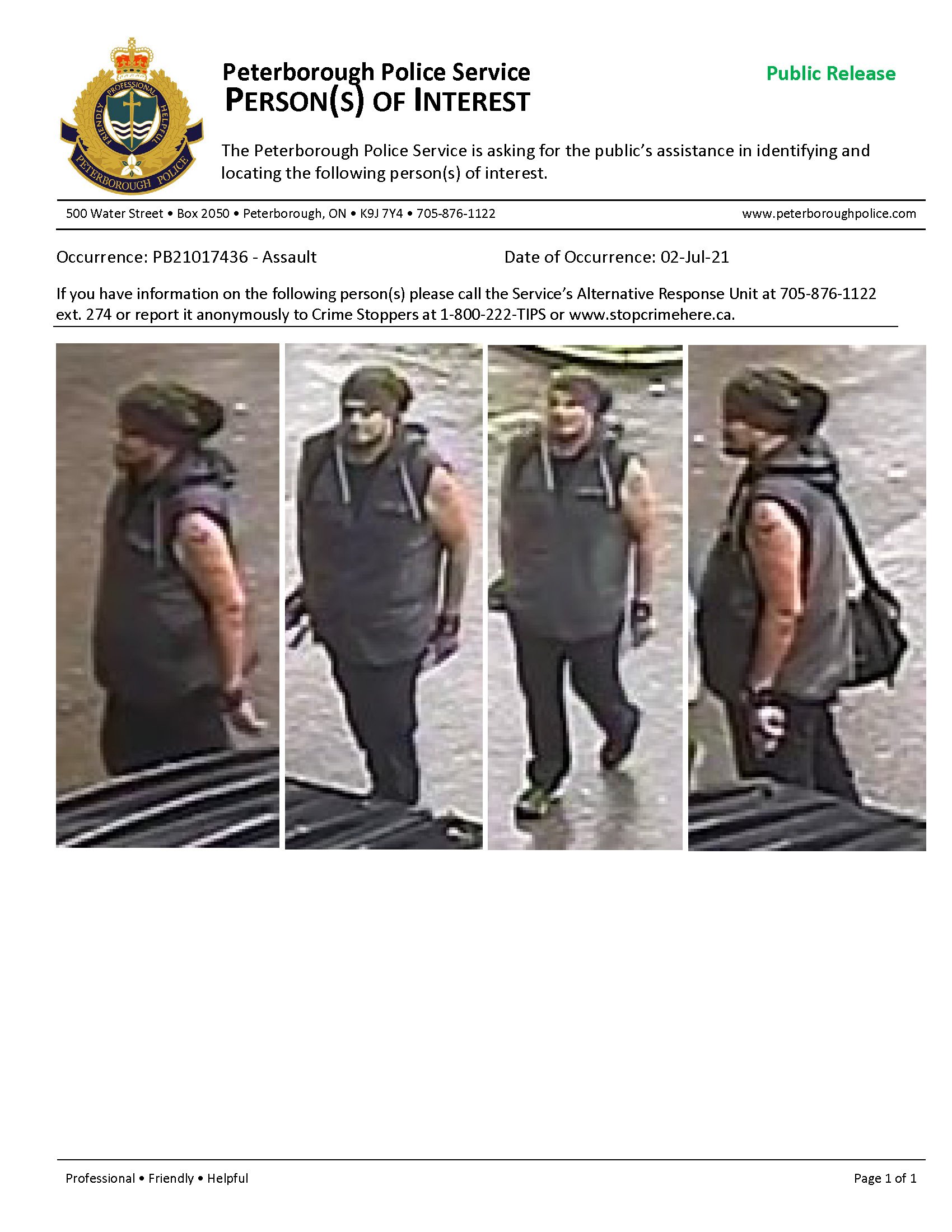 RM21001925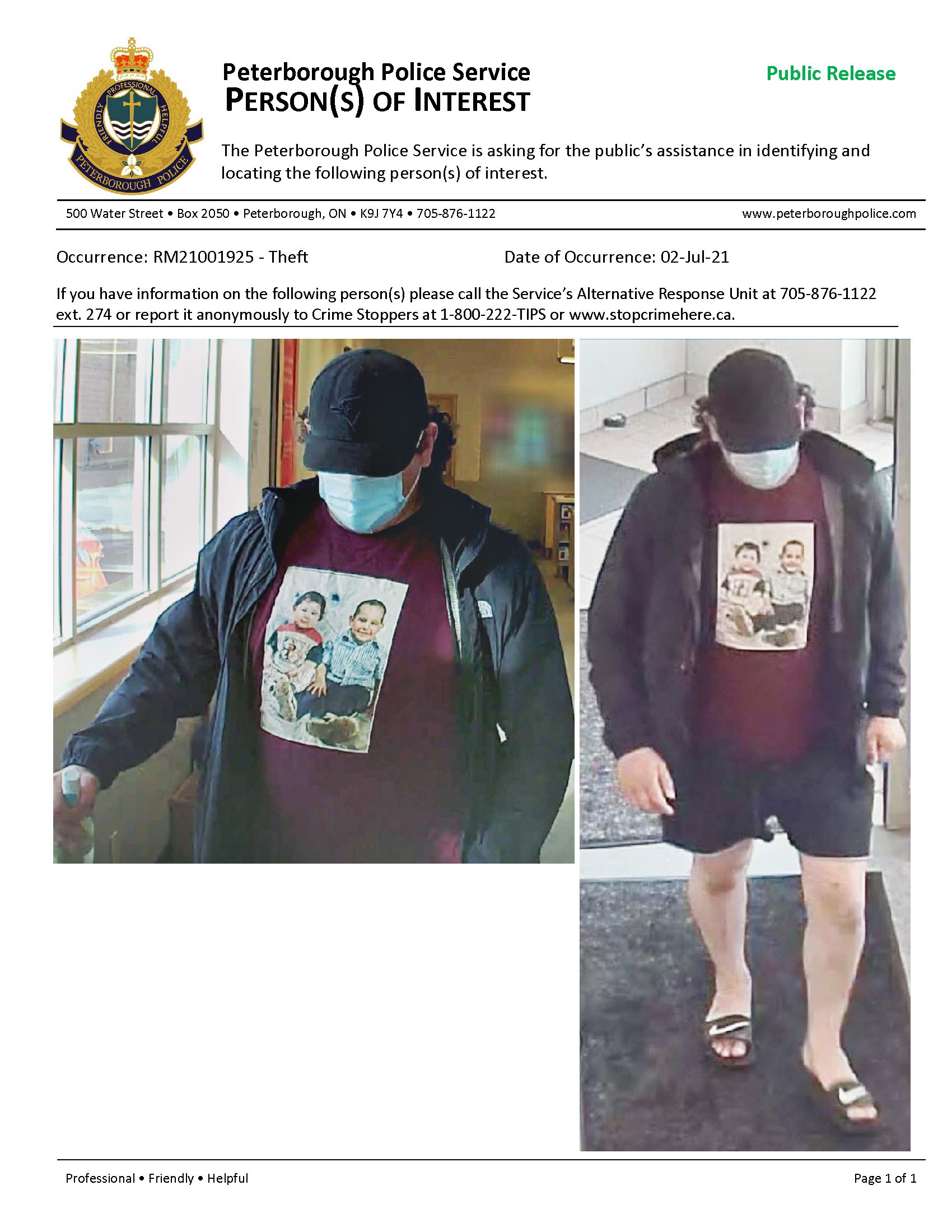 RM21001327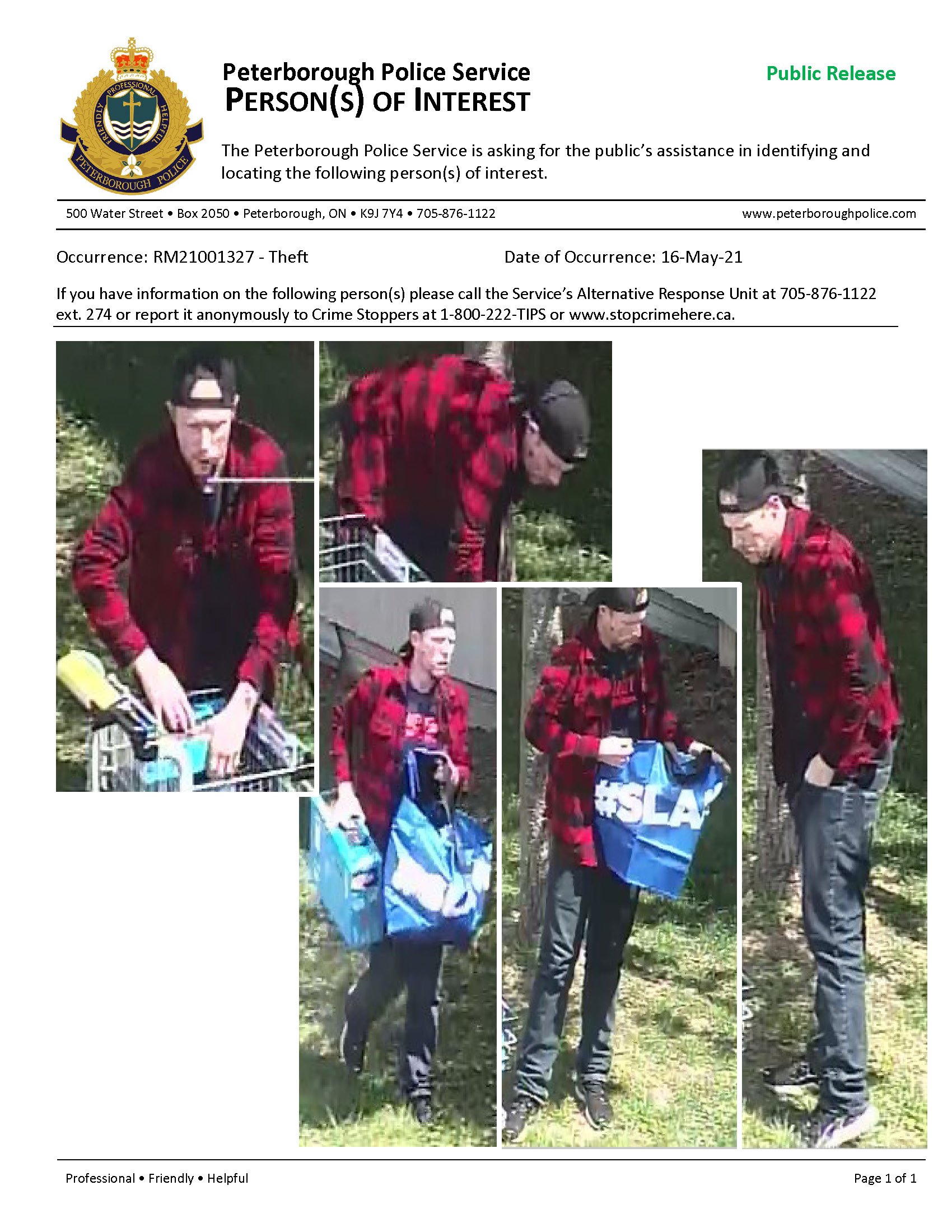 RM21001876
RM21001866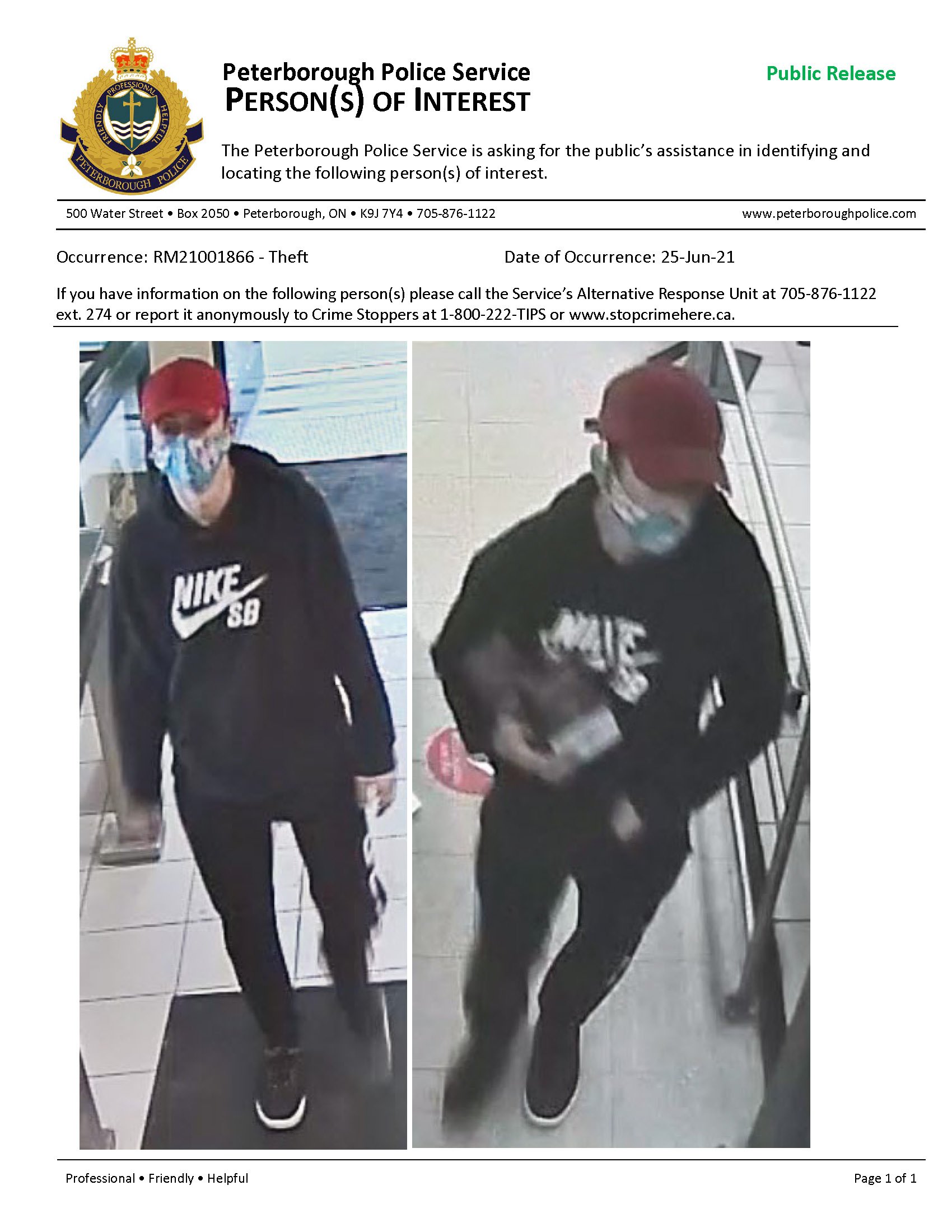 RM21001761
PB21016045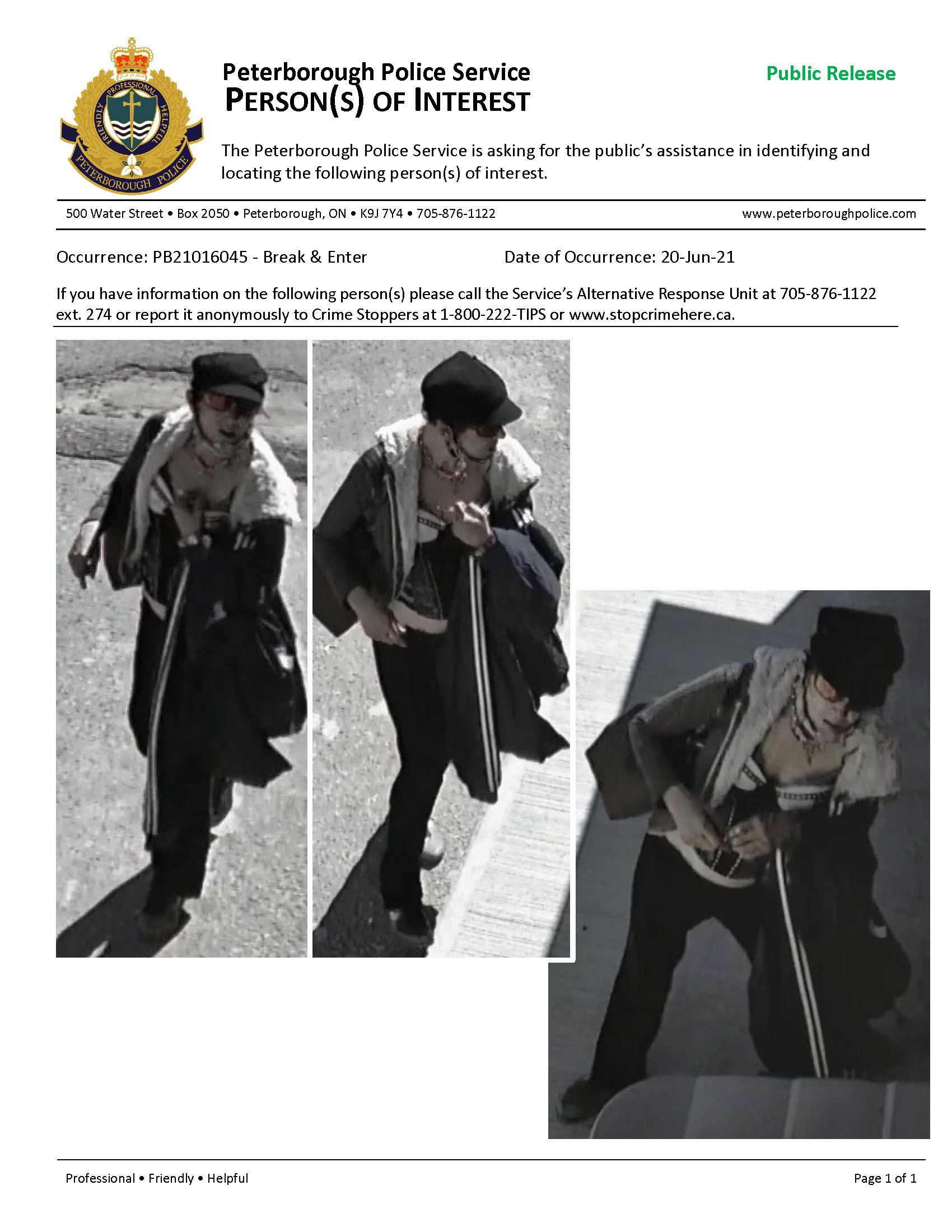 PB21015685
RM21001756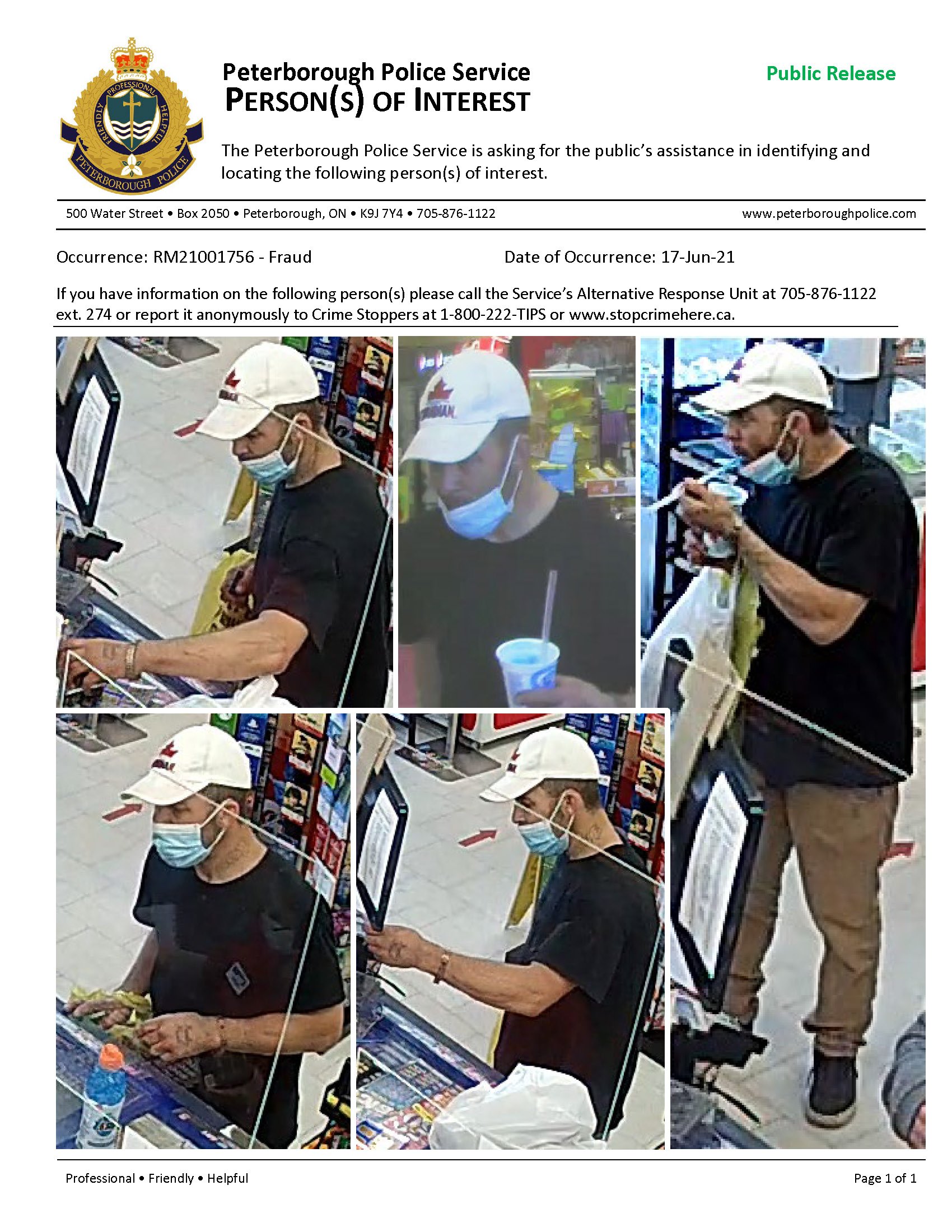 PB21015452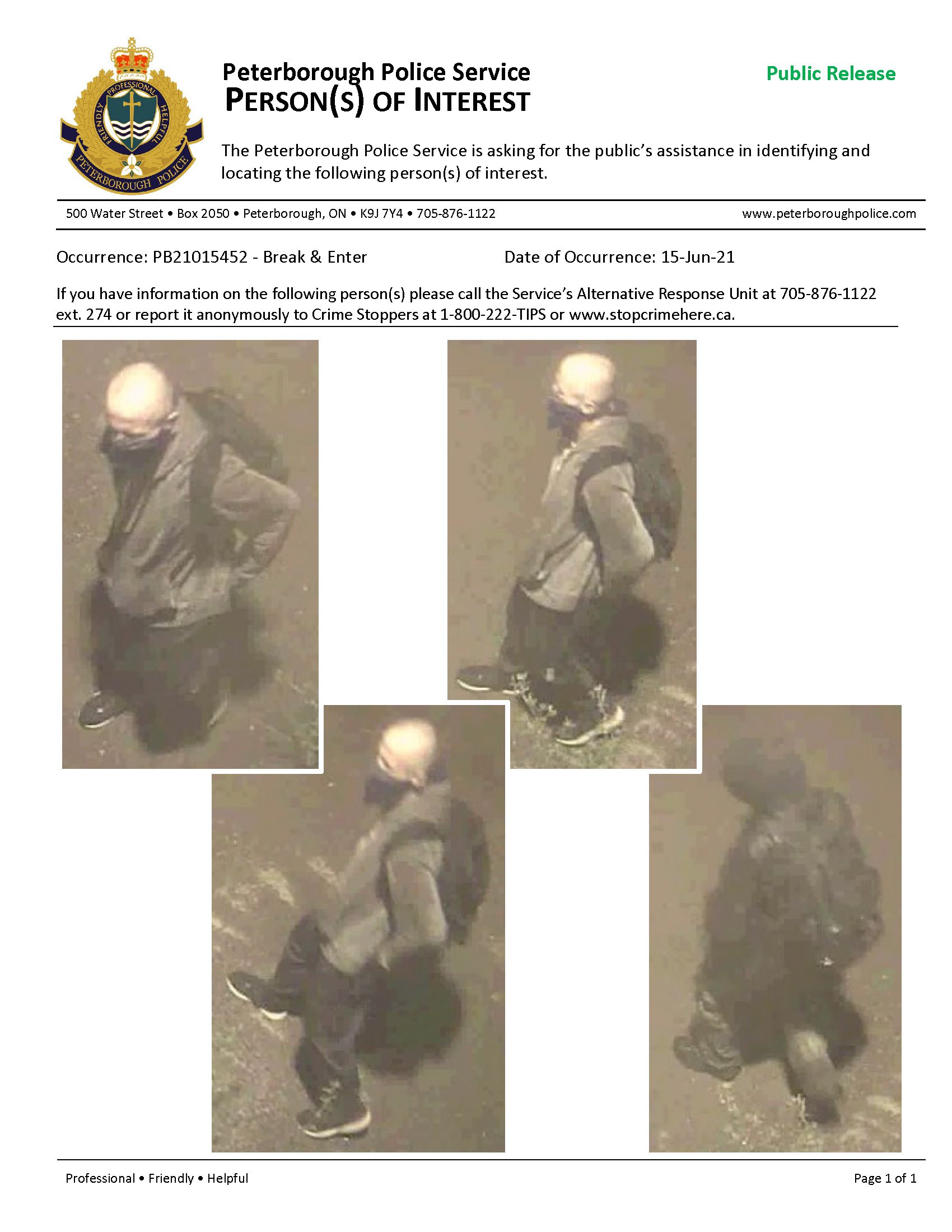 RM21001593
RM21001009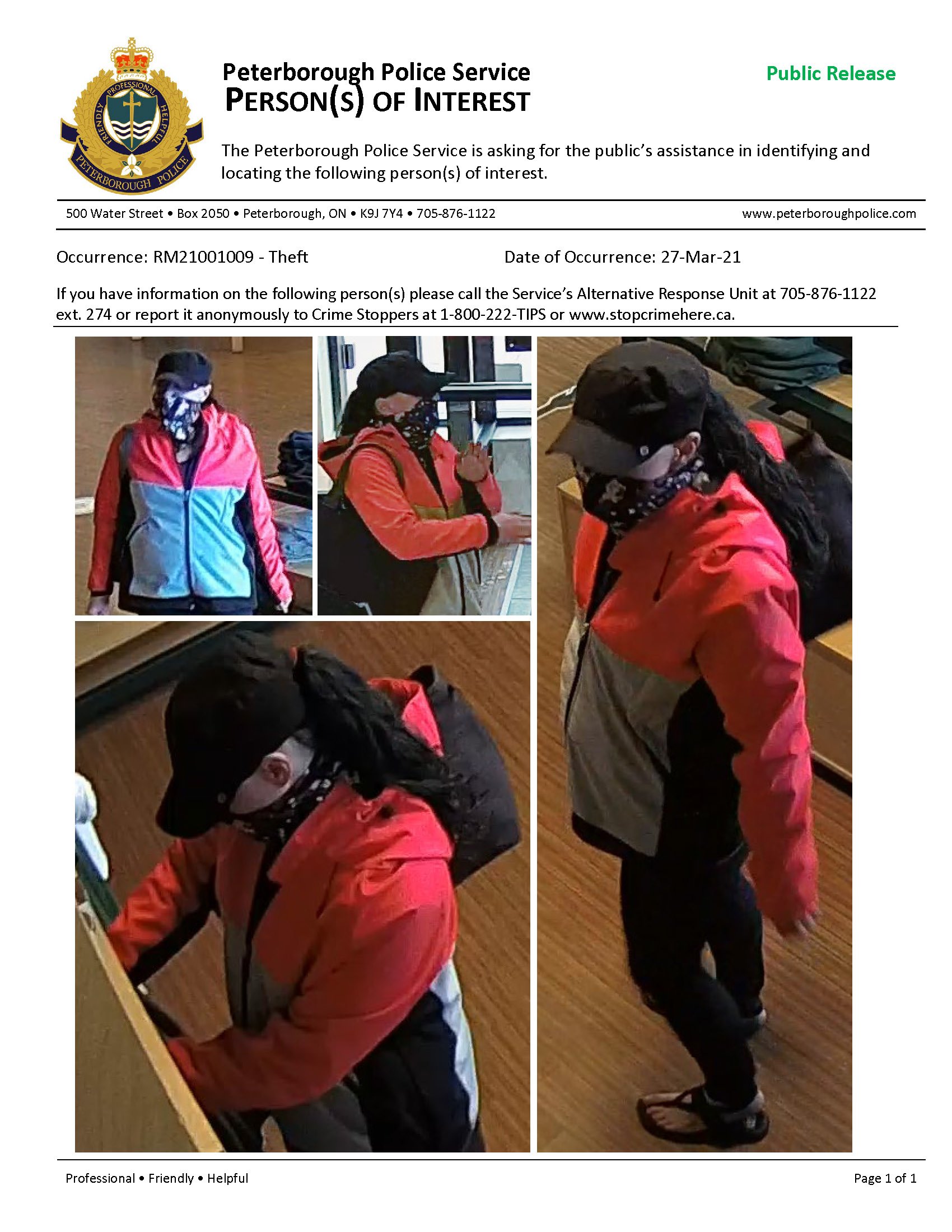 RM21001579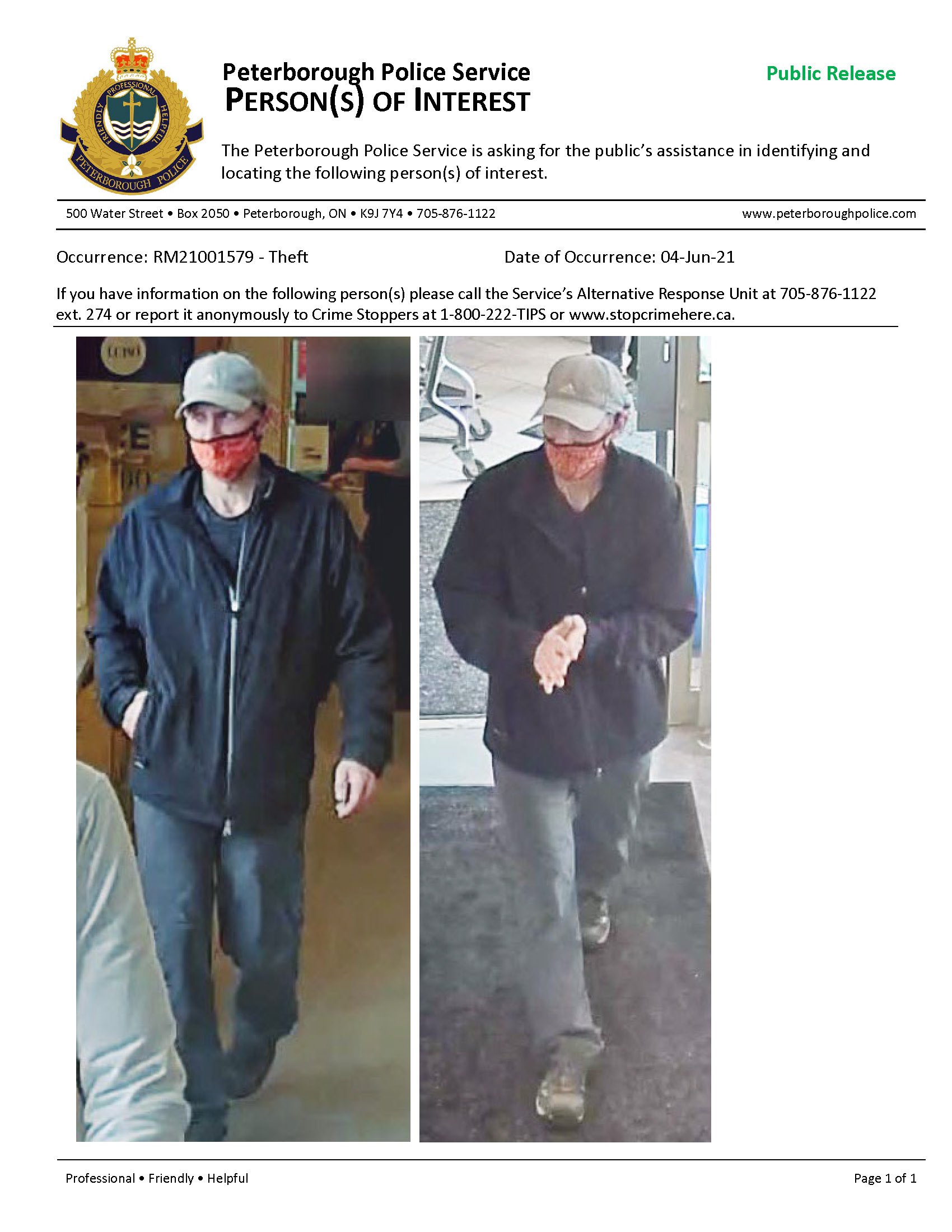 RM21001575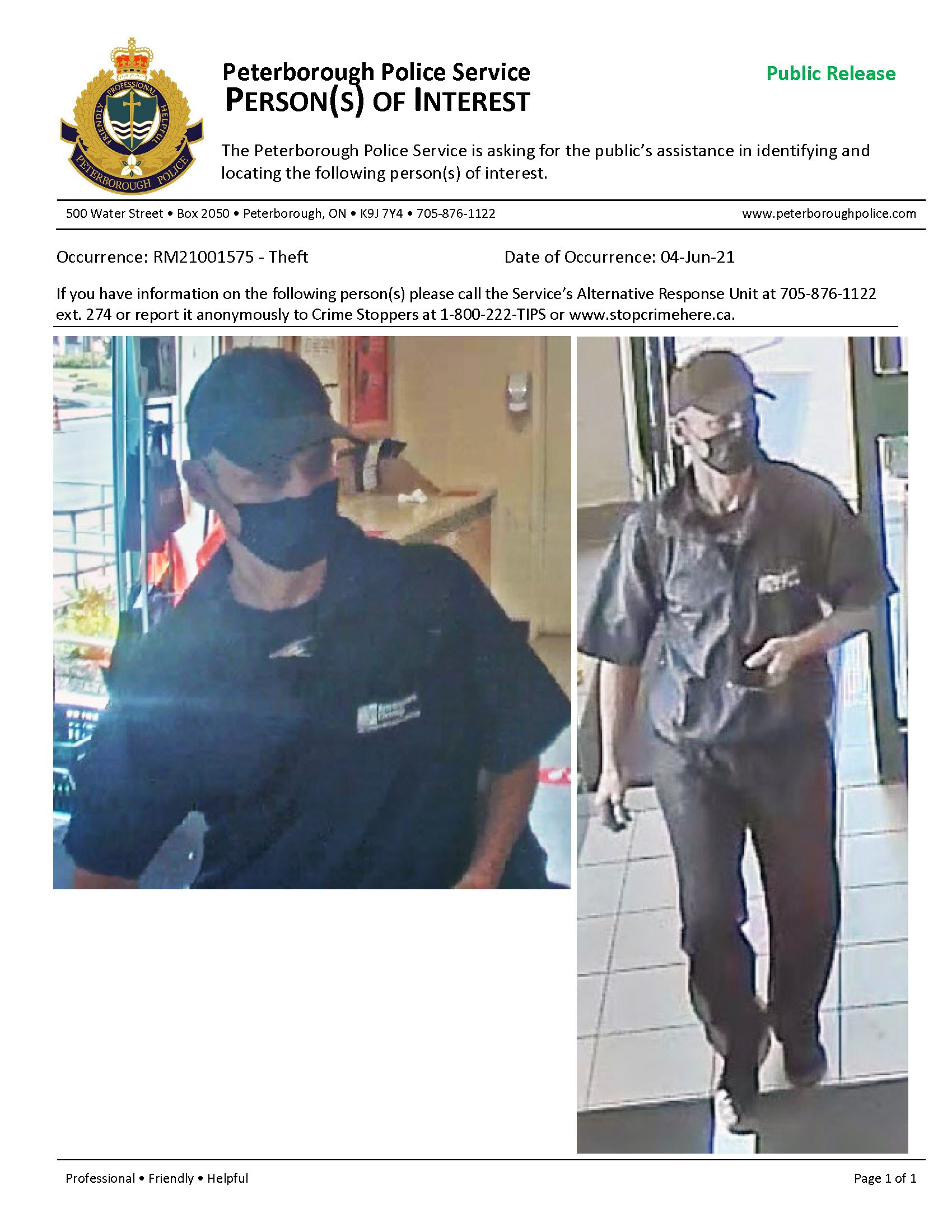 PB21009762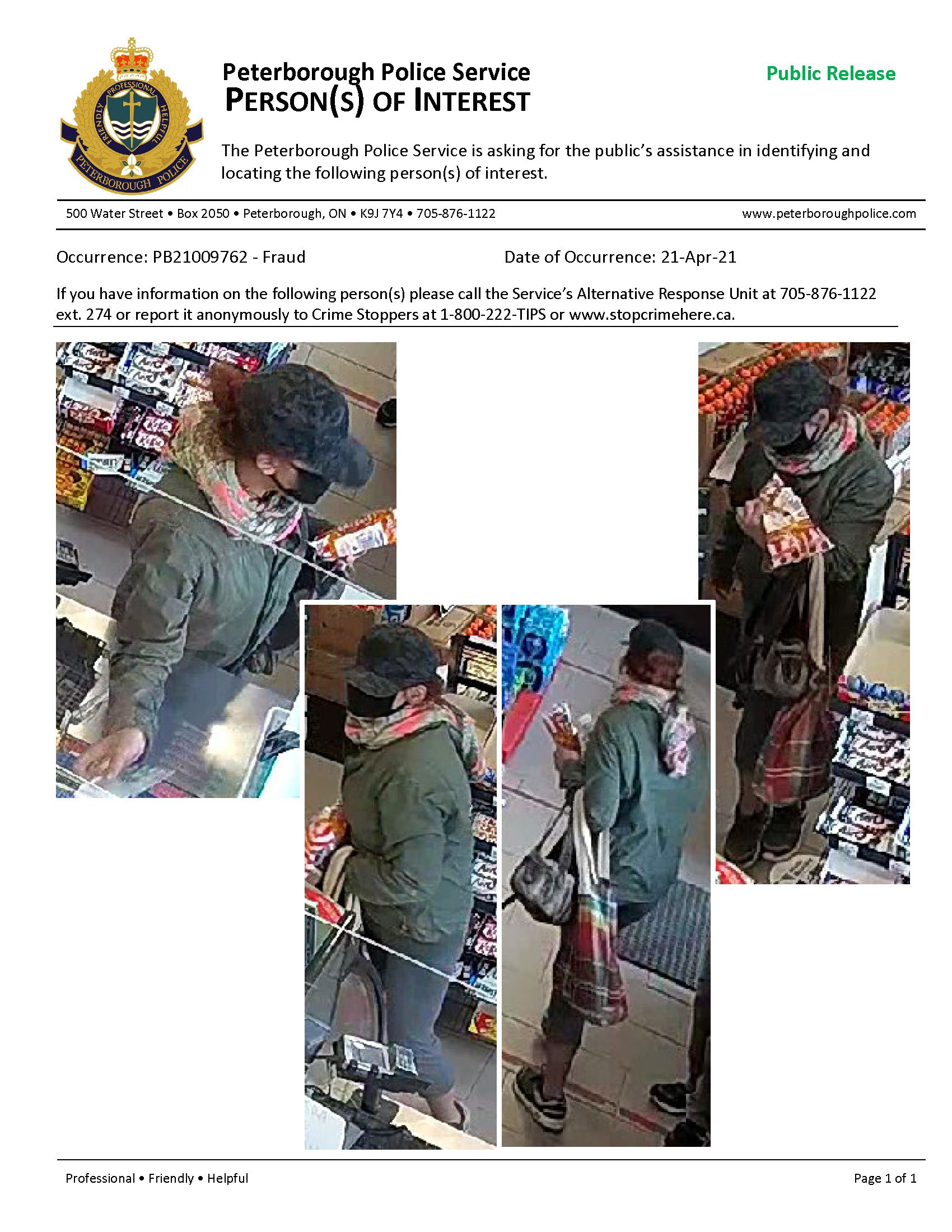 RM21001466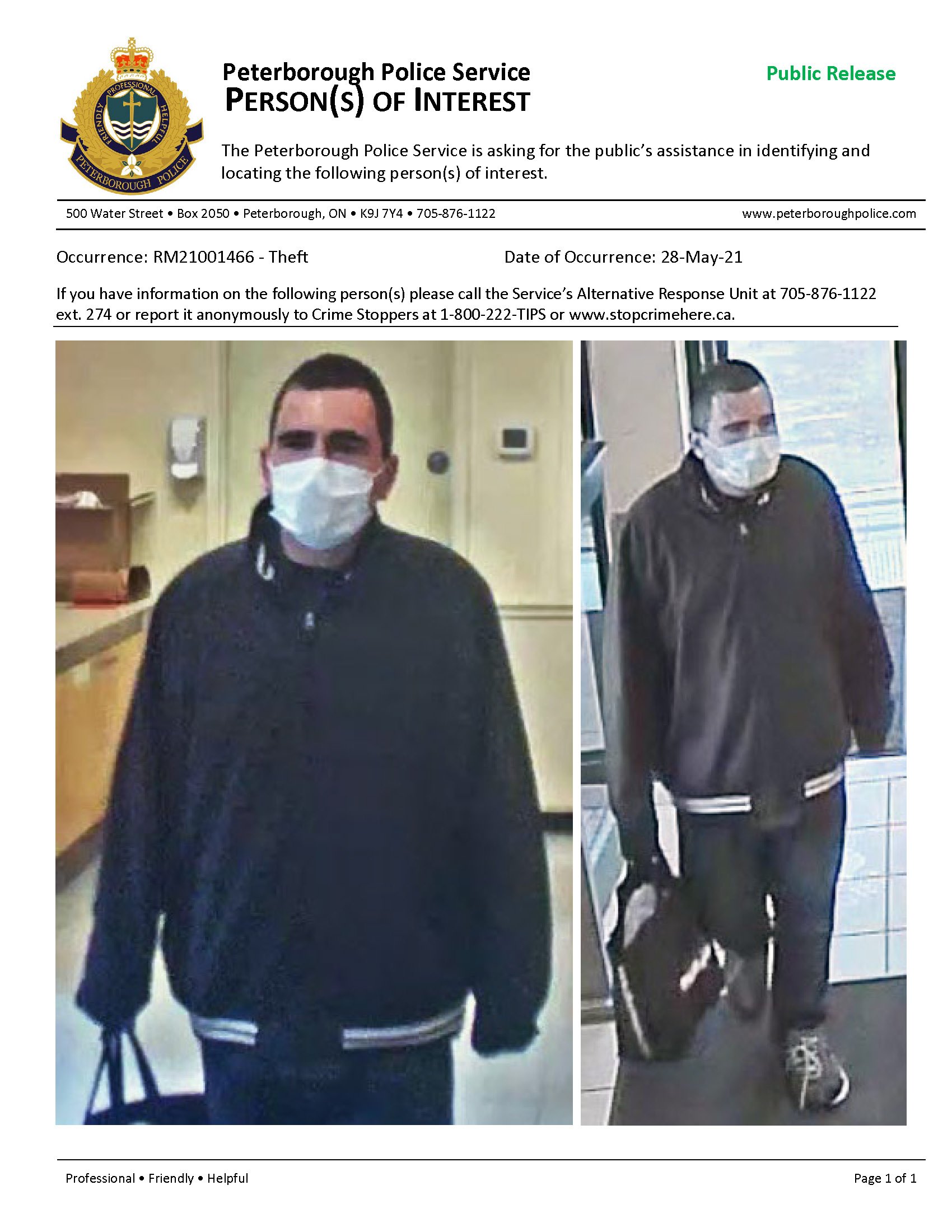 RM21001372
RM21000988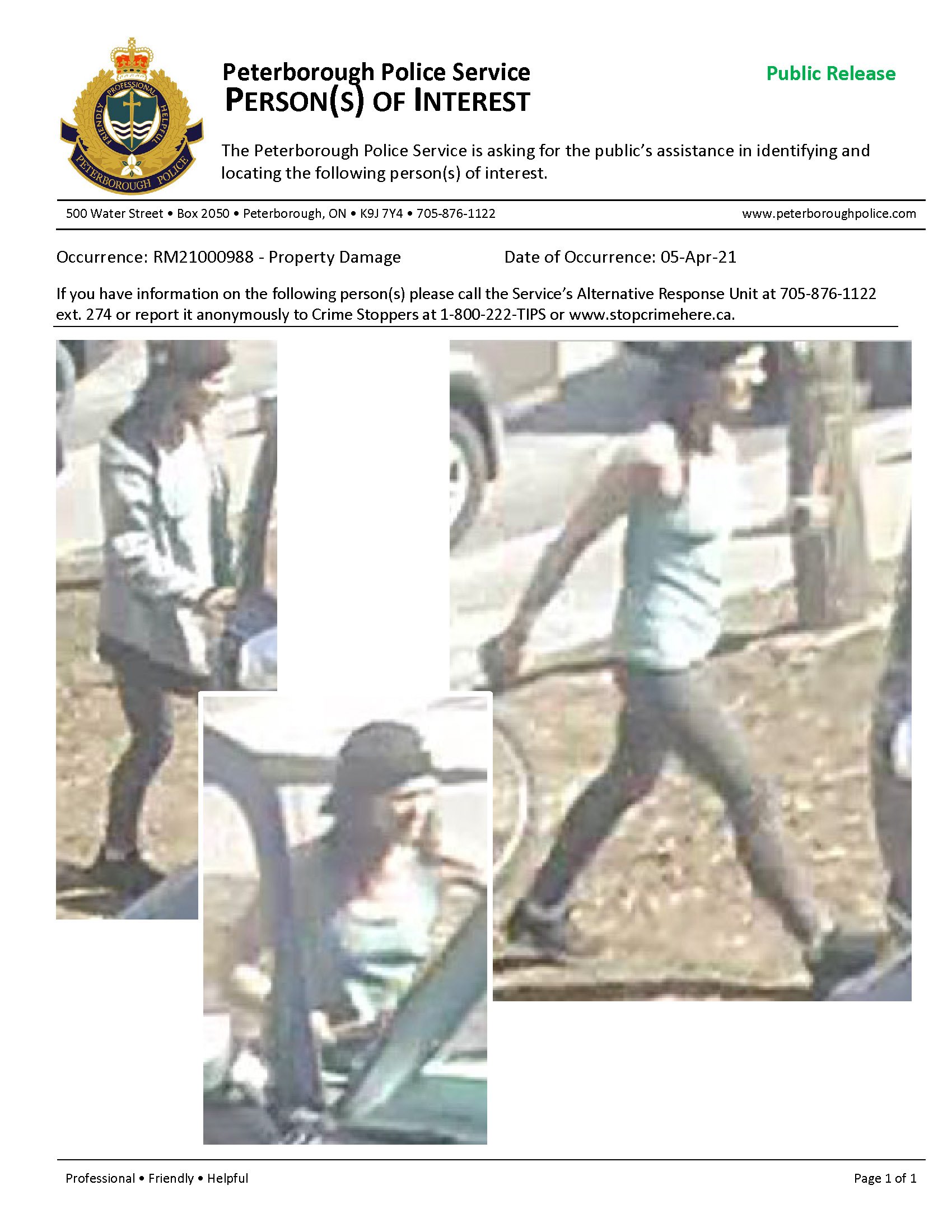 RM21001353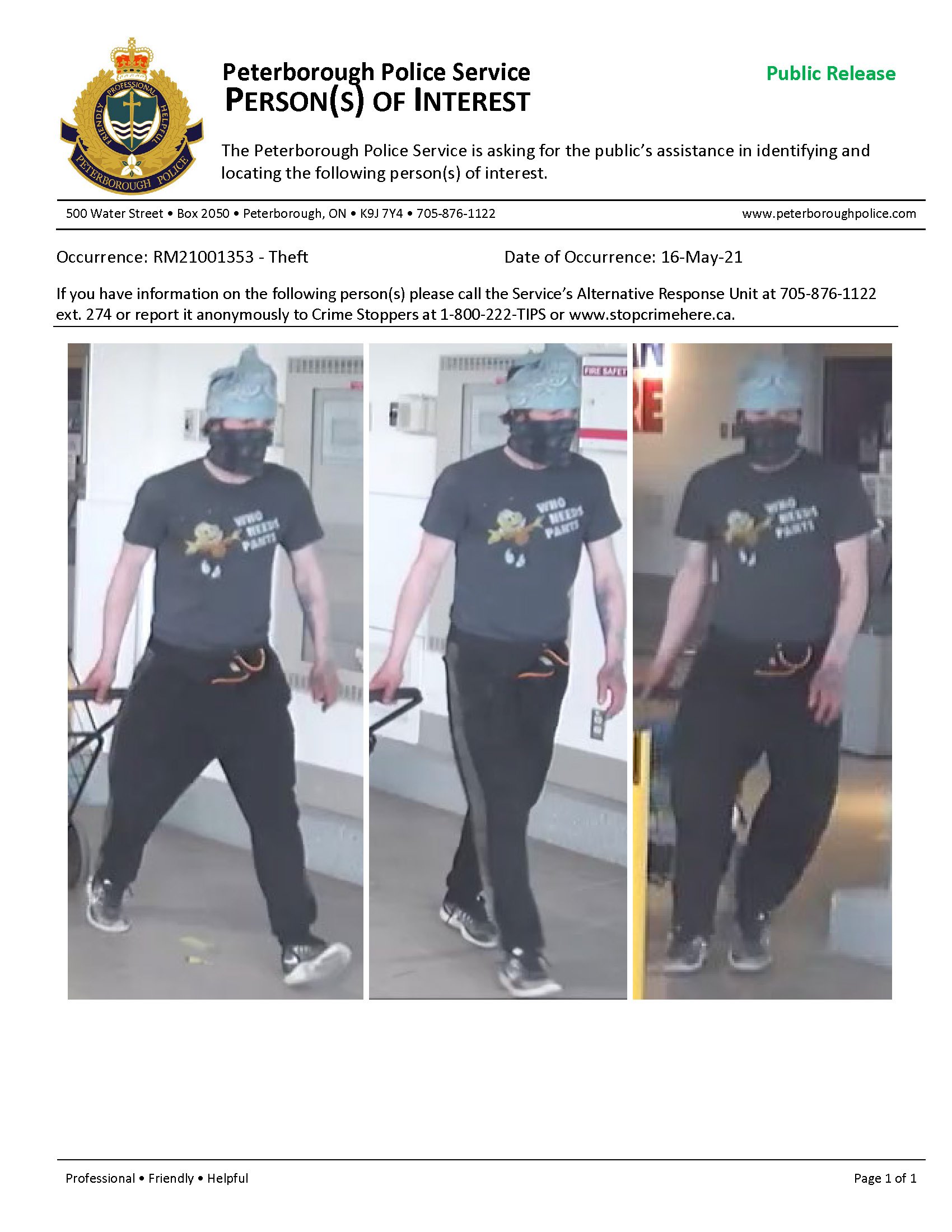 RM21001267
RM21001259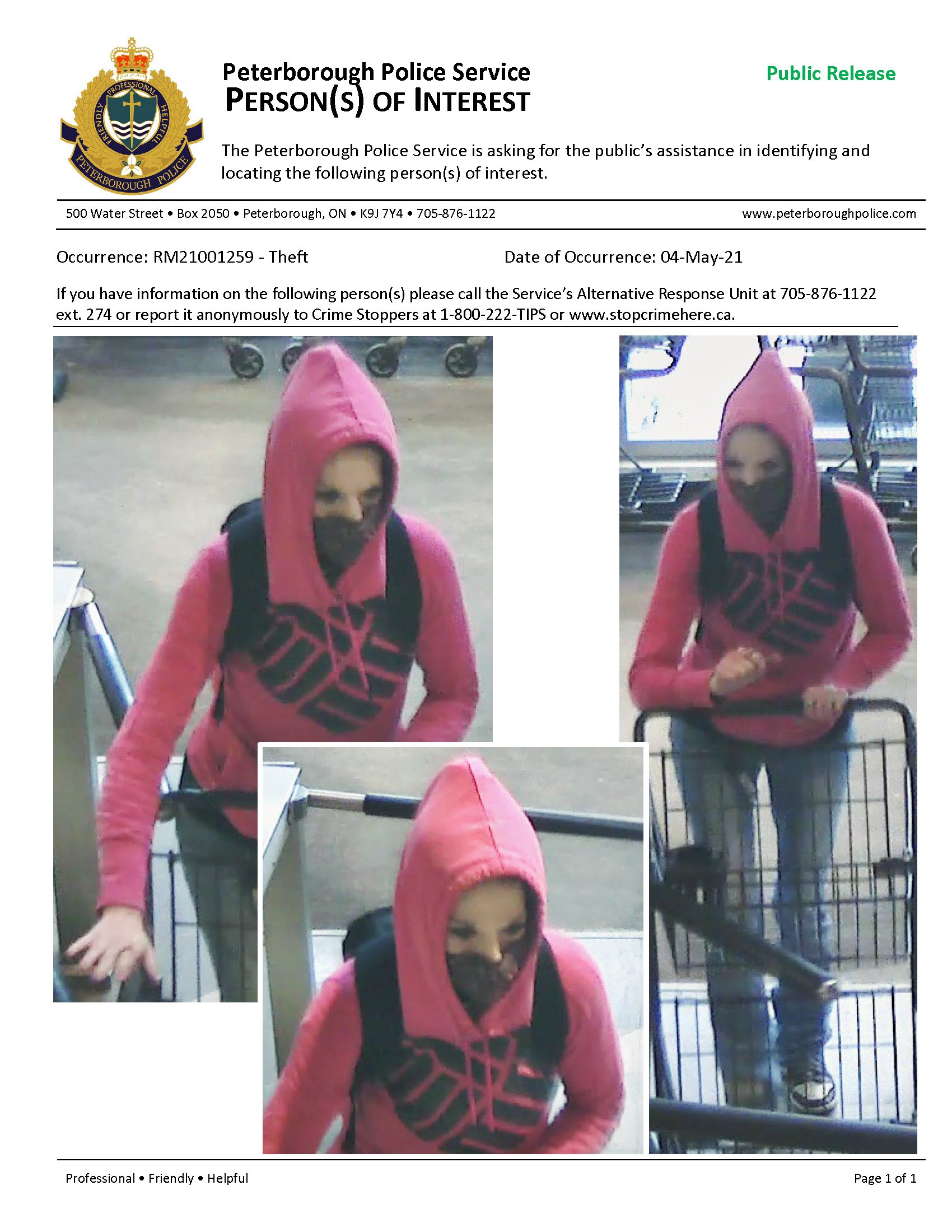 RM21001123
RM21001124
RM21001120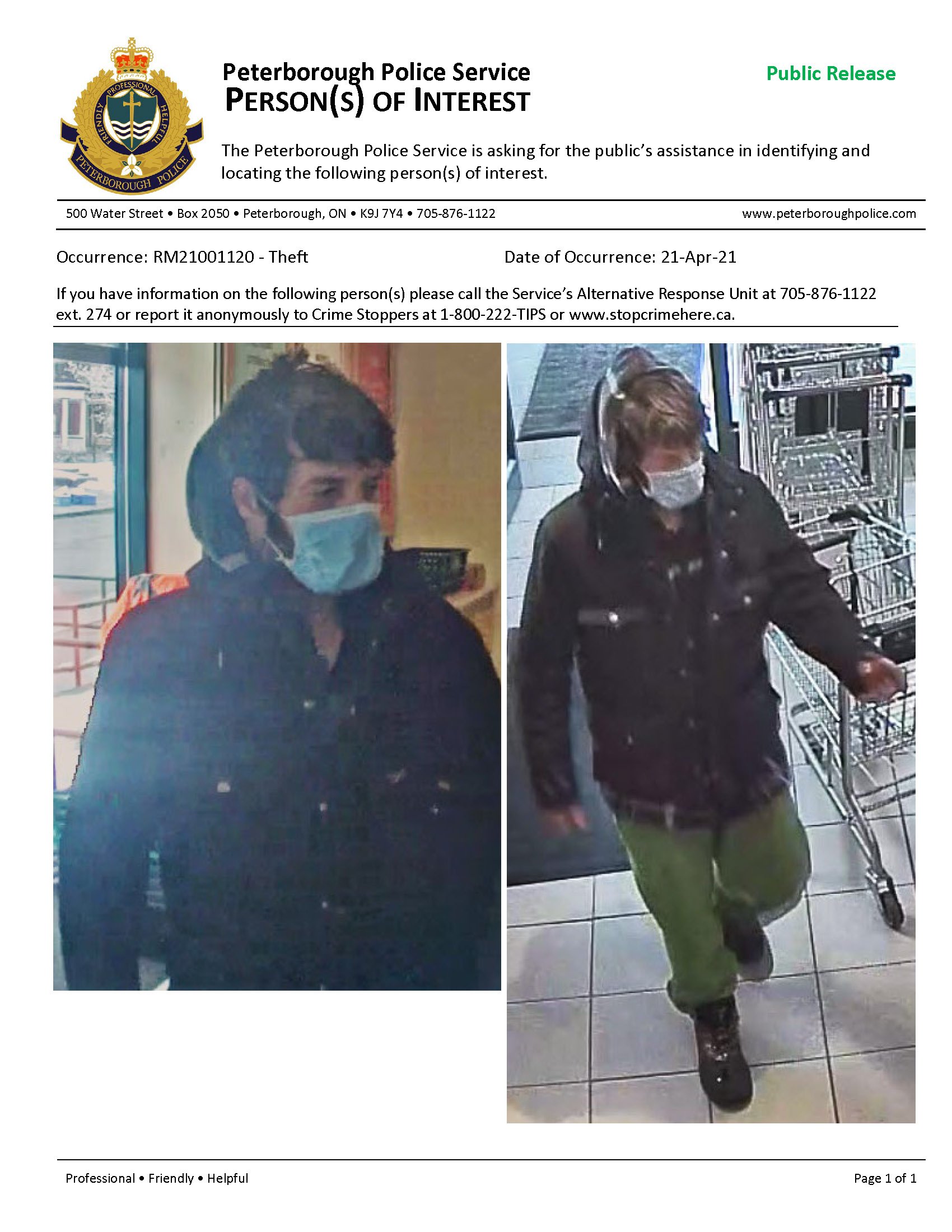 RM21001090
Posted on Thursday, July 29, 2021 12:00 PM
The Peterborough Police Service is asking for the public's assistance in identifying and locating the following persons of interest. If you have information on the following persons please call the Service's Alternative Response Unit at 705-876-1122 ext. 274 or anonymously to Crime Stoppers at 1-800-222-TIPS or Crime Stoppers Online. When calling please quote the incident or occurrence number
---
You can find Persons of Interest from 2020 here!
You can find Persons of Interest...
Posted on Thursday, July 29, 2021 11:19 AM
Media Release:
Calls For Service:
Wednesday July 28, 2021 8 am to Thursday July 29, 2021 8 am: 121
Arrest On Canada Wide Parole Suspension Warrant:
On July 29, 2021 police received information that a male, wanted on a Canada Wide parole suspension warrant was camping in a tent in Rotary Park. Just shortly after 4:30 am police attended Rotary Park and located Patrick Chiasson sleeping in a tent near the river.
Chiasson was arrested on the strength of the Canada Wide Suspension warrant and transported...
Posted on Wednesday, July 28, 2021 08:40 AM
Calls for Service:
(July.27 at 8:00am to July.28 at 8:00am) 89


Police Pursuit
A 34-year-old Scarborough man is facing numerous charges after a police pursuit overnight.
At approximately 2:40 am on July 28, 2021 an officer on general patrol attempted to initiate a traffic stop on Aylmer Street in the City of Peterborough. The male driver refused to stop and travelled at a high rate of speed disregarding a red light and stop sign before striking a tree near Parkhill Road.
After the collision, the...