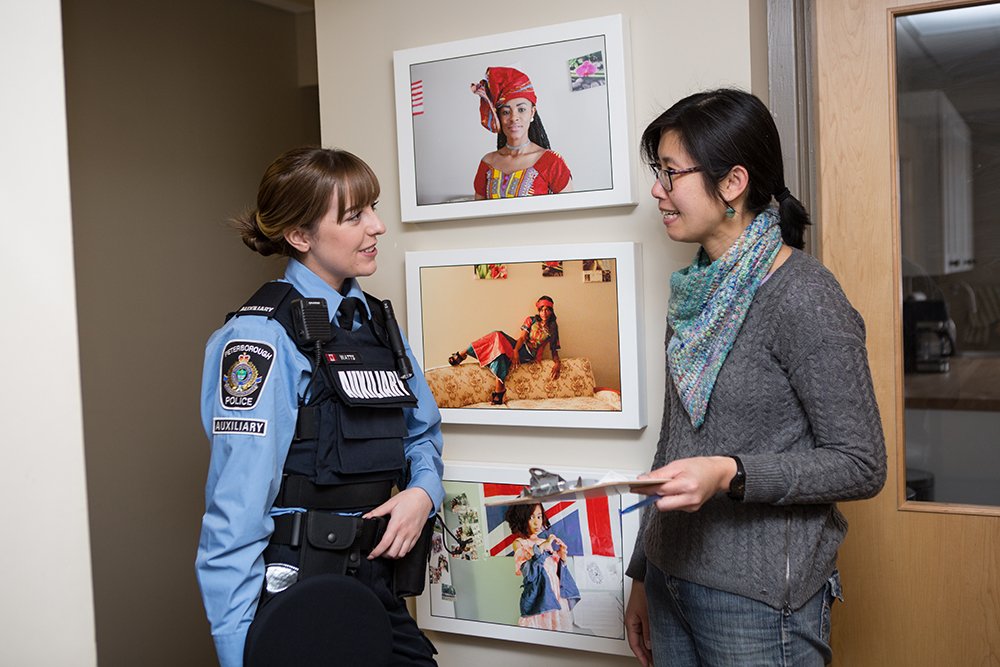 We are extremely proud of our Auxiliary Policing Unit and appreciate all the volunteer hours they contribute and dedicate to public safety. Established in 1999, the Unit epitomises the community policing philosophy, particularly Sir Robert Peel's principle "the Police are the public and the public are the Police".
Auxiliary officers serve the community in a volunteer capacity. Most hold full-time jobs in completely unrelated fields, choosing to give back to the community by joining our Service.
Check "Recruitment" on our Home page to see if we are accepting applications for the Auxiliary Unit. Learn more about recruitment.
The Auxiliary Unit is structured like a platoon in the Operations Division with Staff Sergeants, Sergeants, and a number of authorized Constables.
In 2019 the Auxiliary Unit was comprised of 33 members (Two Staff Sergeants, three Sergeants and 28 constables).
Auxiliary Officers must successfully complete intensive training that includes developing an understanding of the various duties performed in policing, including (but not limited to): federal, provincial and municipal laws, use of force techniques, mental health procedures, and crime prevention strategies.
Auxiliary Officers are required to perform a minimum of twelve hours of volunteer duties per month. Duties include assisting on patrol, traffic/pedestrian control at parades and events, and community events (i.e. Police Week).
In recent years the Auxiliary Unit's combined volunteer time has surpassed 6,000 hours.
The Auxiliary Unit provides the Homeguard Inspection program. The Unit also contributes significantly to the Car Seat Partnership by participating on the Committee and in the child car restraint installation clinics.
2019 Overview:
The members of our Auxiliary Unit are a vital part of the service we provide to the City of Peterborough, Village of Lakefield and Township of Cavan Monaghan. Established in 1999, our Service is extremely proud of the value added to the community by the volunteer members of this Unit that epitomizes the community policing philosophy of, "the police are the public and the public are the police."
The Auxiliary Unit is currently at its strength with 33 members comprised of two Staff Sergeants, three Sergeants and 28 Auxiliary Constables.
In 2019 the Auxiliary Unit volunteered a total of 5,119 hours. This is 2,156 hours above the hours volunteered from 2018's total of 2,963 hours. The increase is largely due to the 15 new Auxiliary members who joined the Unit and were deployed in June 2019. There was one resignation in 2019.
There were six new Auxiliary officers certified for car seat installations in October 2019 bringing the total to eight certified car seat instructors on the Auxiliary Unit.
Auxiliary Officers participated in numerous charity events, parades and sporting events for traffic/pedestrian control in 2019 including: Cops for Cancer events, the Pedal for Hope Tour, Cops n' Bobbers Fishing event, Handbags for Hospice, the Peterborough Dragon Boat Festival, Canada Day parade, Head of the Trent Homecoming Event and the Cram-A-Cruiser Event for Kawartha Food Share.
Auxiliary officers also participated in numerous charity events, parades and sporting events for traffic and pedestrian control. These events include:
Cops for Cancer events & Pedal for Hope Tour
Cops n Bobbers Fishing event
Lakefield Fair
Handbags for Hospice
Dragon Boat Festival
July 1st Canada Day parade
Winter YMCA ½ Marathon
Huntington Society Awareness Walk
Victoria Day Fireworks
Fleming College neighborhood canvass
Law Enforcement Torch Run for Special Olympics events
Assist Community Services Unit with cram a cruiser, safety patrol picnic
Remembrance Day Parades
Baby car seat clinic training
Walk a Mile in Her Shoes for YWCA parade
Knights of Columbus Police Appreciation night
St. Patrick's Day Parade
Head of Trent
Training with regular members with in-service use of force training & Simunition scenario training with ERT
PARN Pride Parade
CIBC Run for the Cure
Lock it Lose it campaign at Lansdowne Place mall for Christmas season
Security for Police auction at station
Santa Claus Parade